EASIEST WAY TO INVEST IN URANIUM
LAST UPDATED: 08 SEPTEMBER 2021, FIRST PUBLISHED: 10 NOVEMBER 2020
The original Uranium Participation Corporation is defunct. Taking its place is the Sprott Physical Uranium Trust (SPUT). For updates, scroll to "UPC/SPUT Updates".
Uranium miners are what most people would invest in when getting into the uranium market. That being said, miners do come with more risk.
For those looking to invest in uranium with the least amount of risk, there are two companies that allow you to do so: Uranium Participation Corporation (UPC) (U.TO) and Yellow Cake plc (YCA.L).
In essence, their business model is to buy and hold uranium until the uranium market improves, at which point they will sell.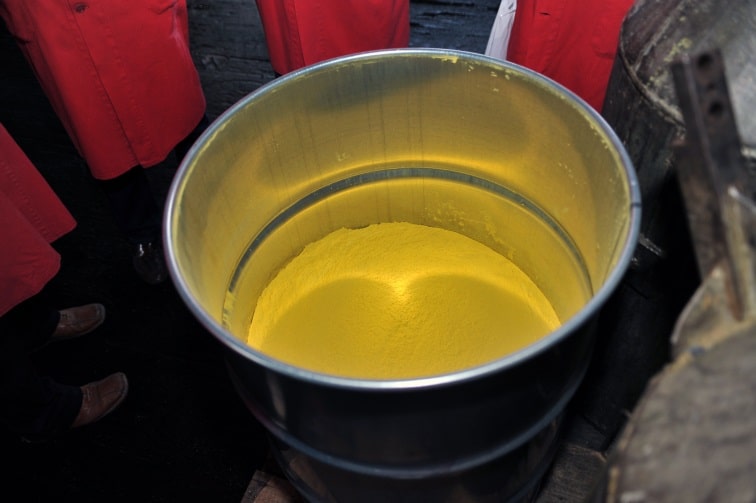 Barrel of yellowcake uranium
UPC and Yellow Cake don't have to deal with any of the risks that come with operating a complex mining or refining operation.
You will be sacrificing some upside, but you won't have to worry about huge volatility and dilution.
UPC and Yellow Cake virtually do the same thing. Which one you choose to buy will ultimately come down to where you live (UPC in Canada, Yellow Cake in London) and the discount to net asset value (NAV).
As of this reporting, both companies are equally discounted about 20% to NAV, so you should probably buy whichever is more easily accessible.
For simplicity, I will be discussing UPC for the rest of this article.
Uranium macro thesis in a nutshell
Uranium is locked and loaded for a great move up.
I already deep-dived the macro thesis comprehensively in my uranium research report, so here is the brief version:
The Fukushima Daiichi nuclear disaster of 2011 caused Japan and Germany to shut down most of their nuclear reactors.
Since the disaster, the uranium market has been in a surplus.
Because of the surplus, uranium prices tanked, making miners unprofitable.
Meanwhile, China and other Eastern countries have been building nuclear reactors, steadily increasing uranium demand.
Japan has restarted some reactors and the West is slowly becoming fond of nuclear energy.
Demand is increasing and there won't be enough supply to satiate utilities.
The price of uranium must rise to incentivise miners to produce more pounds.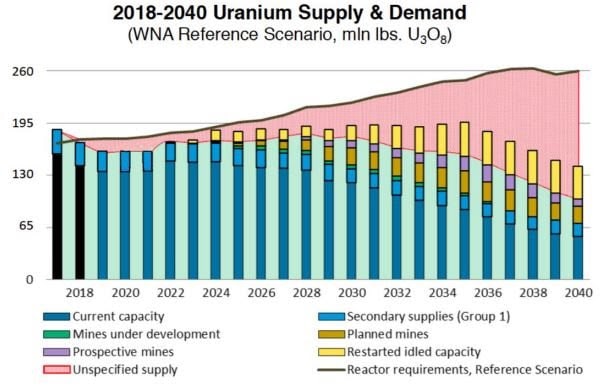 The macro thesis in one chart
Uranium Participation Corporation

ISIN
CA9170171057
TSX ticker symbol
U
OTC ticker symbol
URPTF
Share price
CAD 4.11
Shares outstanding
136 million
Market cap
CAD 557.6 million
Annual dividend
None
Major shareholders
Kopernik Global Investors, LLC (10.7%); Wellington Management Group LLP (9.9%); Ninety One UK Limited (7.2%); no other holders with >5% ownership.
Investor relations website
uraniumparticipation.com
UPC invests in uranium oxide (U3O8) and uranium hexafluoride (UF6). Their primary goal is to hold uranium assets and achieve appreciation through increases in the uranium price.
Since UPC does not have the license to buy and hold uranium, they are under a Management Services Agreement (MSA) with Denison Mines Inc. (DNN.TO). Under the MSA, Denison Mines completes all purchases and sales of uranium on behalf of UPC. Denison Mines also arranges the storage and insurance of UPC's uranium assets. These actions are all directed by the Board of Directors of UPC.
UPC does not invest in uranium royalty or mining investments. They do not pay a dividend and they don't trade around short-term price fluctuations in the uranium price.
Investors who invest in UPC have the most "pure" exposure to the price of uranium without the risks of operating a mine. It's like buying physical gold and waiting for the price of gold to appreciate.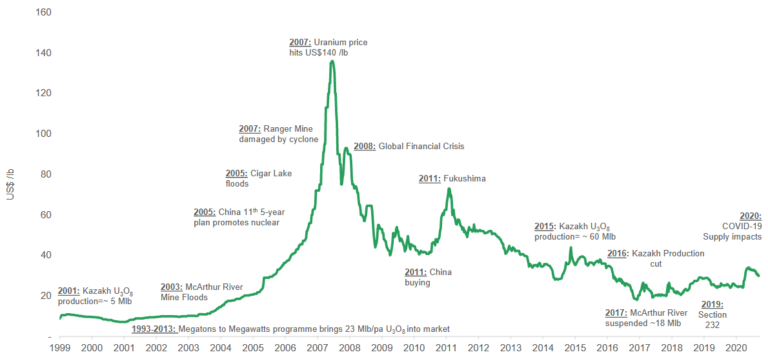 Uranium spot price history (source: Yellow Cake plc)
The latest report from UPC shows they have 16.1 million pounds of U3O8 and 0.4 million kilograms of UF6.
They also have CAD 9 million in working capital.
Will UPC run out of money?
UPC's business is so simple: buy and hold uranium. Buying uranium simply converts one asset: cash, into another asset: uranium, on UPC's balance sheet.
Although not ideal, if UPC really needed cash, they could trim some of their uranium holdings back into cash.
Their major expenses come from storage and management.
Operating expenses for all of FY2019 was CAD 6.15 million, which only accounted for 0.9% of NAV.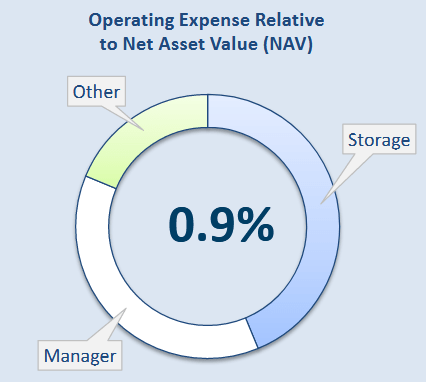 So no, UPC is nowhere near financial trouble.
It's hard to go bankrupt when you're literally sitting on a pile of assets.
UPC's NAV/share as of their latest report is CAD 5.13. Compared to its latest closing share price of CAD 4.11, UPC is trading at a discount of 19.9%.
If UPC were to trade at 1x NAV or fair value to the current uranium price, the upside is a nice 25% (4.11 * 1.25).
However, the macro thesis says the price of uranium needs to move up to USD 50 or more per pound.
Assuming UPC tracks the price of uranium closely, UPC will at least double as the price of uranium appreciates from USD 25 to 50. Based on supply and demand relations, this should happen within three years.
As a bonus, your returns will be higher if UPC trades above NAV. This can easily happen in a uranium bull market when emotions and euphoria drive stock multiples higher.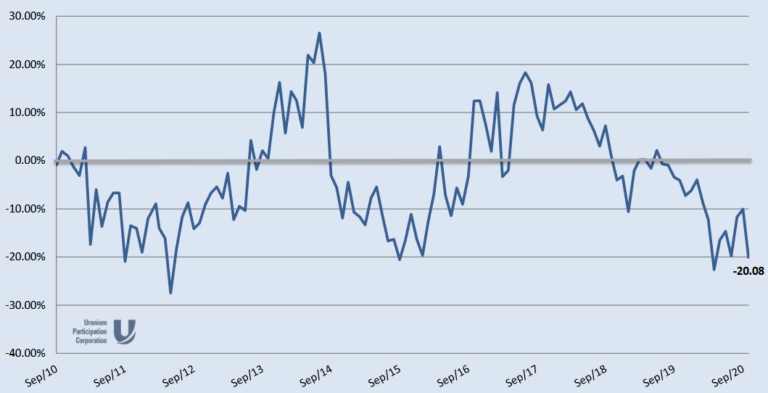 UPC NAV premium and discount history
How should you invest in UPC?
I would accumulate shares of UPC when it trades below NAV. Hold, then sell in tranches when UPC trades at 1x NAV or higher.
Anytime you can buy below NAV you are buying at a discount.
Today, it's like trading $0.80 for $1. It's free money!
If you have a finger on the pulse of the uranium market, you can try to time your sells as the uranium thesis plays out.
I can't think of an easier way to play uranium. Enjoy the returns!